Find out why more and more, scientists, celebrities, sports people, etc. are tapping into the Power of NLP 
Free Your Mind from Fears, Worries, Anxieties and Doubts. Start Living a Healthier, Wealthier, Happier Life. Using Proven Strategies From Neuro-Linguistic Programming (NLP), Getting You Results Fast.
Overcome negative beliefs holding you back
Stop stagnating and get re-enthused with YOUR life
Create new beliefs about what you can do and what you deserve.
Create new habits of success that propel you towards your dream life.
Unlock your hidden skills and supercharge your true potential
Create a powerful action plan that will keep you on track to achieve everything you desire.
Instantly Get Access to The Full Free Your Mind System.
100% Risk FREE. A One Time Payment Of $395.00
ONLY $47
Free Your Mind and Create a Healthier, Happier and More Abundant life. 
This program is about Freeing your mind from fears, worries, anxieties, doubts so YOU become the conscious architect of your dreams. It's about YOU deciding what you want and aligning your Dreams and Resources with Strategies to Get You there Fast.
I will GIVE you the Exact Formulas that I use with my one-to-one clients.
Often the problems in our lives from relationships, to career, to health are all tied up in our stress. Once stress is diluted, a multitude of Problems Will Wash Away so You Experience more Peace & Inner Calm and start living up to Your Full Potential.
Giving You more Energy, be more productive and have Fun.
"Just wanted to email and say the webinar last night was amazing awe inspiring and right on my enlightened path to health wealth & happiness."

Michael S

"Your Webinars are magical. Thanks John, peace and joy"

Ian B

"Very cool little synchronicity's have been popping up and my head is buzzing...." Thanks much! Namaste.

Becky T
"I became so mesmerised by the sheer power of NLP, that I started learning as much as I possibly could...
I bought books, videos, anything I could find on the subject and started to apply some of the techniques on myself. I was amazed how fast they worked.
After applying just one technique called the 'Swish Pattern' to help get rid of an issue I'd had for years, I realised it was gone almost instantly!
It seemed like I had just cast a magic spell to end this lifelong problem. I was hooked and wanted to go even deeper...
Thats when I decided to find the creator of NLP himself, Dr Richard Bandler and learn directly from him. I trained to Master Practitioner level then Trainer and soon started working at a Natural Health Centre helping others.
In January 2005 I was chosen to be part of the London Society of NLP Assisting team.
Since then I have assisted at over 50 seminars and events, with the Society of NLP and Dr Richard Bandler (co-creator of NLP) helping tens of thousands of people to learn NLP and make huge positive changes in their lives."
John Vincent.
After Looking at the State of Online NLP Training, I was Shocked... 
Quite frankly most of them looked like they had been thrown together by someone who had just read a few books, let alone ever learned NLP from the creator.
Free Your Mind and Manifest the life of Your Dreams.
In the First webinar you are going to watch you get the complete lowdown on the Structure of Thinking.
And more importantly the Three Powerful Techniques to take control of your thinking. So you can aim your thinking at the future you want to create.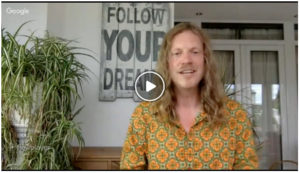 The Second Webinar I share the most Powerful Psychological Technique for creating behaviour change I have Ever found in over 25 years at the cutting edge of Personal Transformation.
This technique alone can have you rewiring your mind to Eliminate Bad Habit and Limiting Behaviours as well as Create New Positive Habits of Success.
The Third session goes deep on Beliefs. We discover the structure of them, and how you can change any belief about yourself.
Imagine being able to have the same beliefs that highly successful people have, beliefs that propel you to attain the outcomes you desire...
Finally the forth Webinar is all about Your Future... because thats where you are going. It's time to stop letting things happen and create your future life.
The Powerful Process in this session allows you to become the conscious architect of your future, designing it the way You want it to be.
Plus You Are Going to Get to:

Witness Success in Action
You'll also have access to a 4 part video series following one case study on her journey using my NLP techniques to instill success habits. I work with her one-on-one during a 3-day workshop using the exact same formula in the main program. And I follow up with her a week later over Skype to see how she's doing.
This program is about Freeing your mind from fears, worries, anxieties, doubts so YOU become the conscious architect of your dreams. It's about YOU deciding what you want and aligning your Dreams and Resources with Strategies to Get You there Fast.
There are many bonuses in this course...  Mp3's, videos, PDF's, plus a video from the original Free Your Mind Series and 4 case studies. In the case studies you will see me work with Heloise helping her create 4 new Daily Success Habit. Use these bonuses as you come to them and got back to them as many times as you want to make change...
Now, it's time to start.
100% Risk Free Guarantee
You have our 60 days, no questions asked, no risk, money back guarantee.
If you are not happy with the progress you are making, for whatever reason, you can have your money back. No questions asked.
I think you will be surprised how effective and yet simple to implement this process is and that you will be 100% satisfied.