Take Time Out For You to Renew, Recharge and Rejuvenate
Download POSITIVITY Hypnosis
Boost Your Positivity. Develop a Mind-Set for Abundance. Wealth, Health & Happiness. 25 minutes of Relaxing Hypnosis - Yours FREE Today
This is a Positivity Upgrade for Your Mind, Body & Spirit
Maintaining a positive perspective allows you to focus on the bright side of life.
With a positive attitude you can anticipate your success and focus more clearly on how to achieve it. You have the faith and confidence to overcome obstacles with the openness to see possible solutions.
You also feel happier and broadcast that joy and success to others. People are simply attracted to positive people.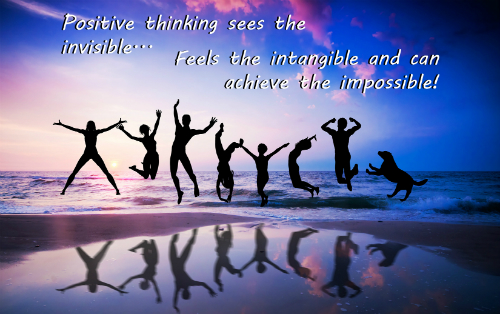 With

More Positivity 

You Will:
Keep your head, keep your cool. With a positive attitude a multitude of problems simple melt away and the solutions present themselves
See the GOLDEN LININGS and start turning any situation to your advantage. Be the kind of person everything just works out for. Is it 'luck' or simply mind-set
Positivity is Contagious. Being positive feels good and it makes those around you feel good too 🙂 Make others feel good with your positive vibe.
Achieve the Power of a Positive Perspective
As human beings, each and every one of us will experience hardships along the way. How you choose to react to these difficulties is the true measure of your character.
In Module 5 of the Personal Transformation Series you will gain the power to control your emotions and maintain your optimism so you can weather any storm life throws your way.
Are You Ready to Make

Positive Changes

in Your Life?
Become an optimist. Focus your attention and efforts on positive results.

Wake up happy and positive. Be amazed at how much energy you have and all that you accomplish

Enjoy life to its fullest. With a positive perspective you are healthier and happier.
Change Yourself, Change Your World
Are You Ready to Make Positive Changes in Your Life?
John Vincent is a Hypnotherapist, SoBeing Coach, Neuro-Linguistic Programming (NLP) Practitioner, Master Practitioner and Consciousness Explorer, living, studying and learning meditation, altered sates of consciousness, accelerated learning and a host of other related mind studies.
Working as an independent Hypnotherapist, NLP Practitioner and Personal Development Specialist with private clients, at Retreats and online for over 16 years. Creating his own unique blend of hypnosis and NLP tools to help his clients get the results they desire.
Positivity is one of the CORE MODULES of John's phenomenally successful Personal Transformation program. Confidence is one of the six Key Areas of your life  to unlocking your true-self and live up to your fullest potential.
Hypnosis is a great way to cut straight through that self-doubt and critical internal dialog. Straight to your unconscious mind, effortlessly empowering you with a more positive mind-set. Updating your own Personal Software.
"I still remember the first hypnosis cassette (yes remember cassettes?!) I got. It was a motivation session and I listened to it 5 times in the first week alone. And I will always remember the dramatic impact it had on my life" John Vincent
Now with over 20 years practical experience working, recording and teaching hypnosis and nlp. These sessions combine John's unique style of advanced hypnosis with Theta Binaural Beat and the DEEPLY RELAXING music by Dr Christopher Lloyd Clarke.
Positivity is a State of Mind. You can take control of your levels of Positivity in any situation. Unlock your full optimistic potential and FEEL GOOD.
Customer Success - Personal Transformation Testimonials 
Your Hypnosis is 'Mind Bending...
"You are an excellent example of the craft! I've got to say your hypnosis is 'mind bending'. Even after listening to many other hypnotists and recordings over the years and being an Ericksonian hypnotherapist!"
Jamie
Effortlessly Carries Out Interventions…
"I was struck by the level of expertise and in-depth knowledge of NLP that John has as he effortlessly carries out interventions and is a master of the use of language and the NLP toolbox to effect change."
Rose E.
Out of a Sea of Confusion...
"Your recordings actually help to get a person out of a sea of confusion and even lies that are constantly being spun in today's society"
Lucas R.
I came out in such a peaceful state...
"Well done John. I have listened to plenty of meditation/hypnosis sessions in the past over decades and I cannot remember when I came out in such a peaceful state as when I have listened to your session one"
John P.
Download

FREE

& Boost Your POSITIVITY Today
YES! John, I am ready to get started Now with Positivity Hypnosis for JUST $27 $FREE.