Secure Acceptance form for Creating Clarity & Focus
Yes!

I'm Ready to get Clarity and Focus, boost my

brain power and improve my relaxation with this Dynamic Hypnosis Session For just

$27

Get clarity for your goals making them more coherent and intelligible and ultimately easier to focus on and achieve
Focus on what it is you want to achieve, when you have focus you will succeed
Learn how to 'switch off' to distractions so you can maintain your focus when previously you may have been lead astray
Upgrade to the Triple Hypnosis Package: Creating Clarity & Focus, A Clear Mental Image & Eyes Open To Opportunity and SAVE an Extra 50%
A Clear Mental Image
Do you know what your goals are?
Are they a hazy idea of what you want?
To achieve the life you want you have to know clearly what that life is. To achieve any goal in life, it needs to be focused and clear. You need to form a clear mental image of it, so crisp that you can just step right into it.
"You must form a clear and definite mental picture of what you want. You can not transmit an idea unless you have it yourself." Wallace Wattles
Eyes Open To Opportunity

Does opportunity seem to pass you by?
Are you unsure when to take the first step?

Opportunity is Everywhere. You just need to know where to look and how to look for it. Remove the blinkers of the daily life and open your eyes fully to the opportunities all around you. AND know which opportunities to take to achieve the life of your dreams.
Creating Clarity & Focus
Do you get easily distracted?
Are you ready to get the clarity and focu you need to succeed?
Create more clarity and focus in your life. The more you have more clarity and focus in the areas of your life where you want to succeed the more you will achieve. Get clarity for your goals making them more coherent and intelligible and ultimately easier to focus on and achieve.
Make changes that beneficial to you so that you can have more, be more and achieve more.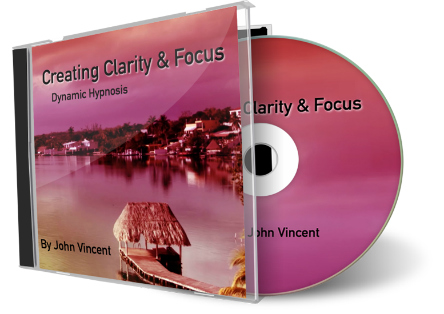 Kick Start Your New Focused, Dynamic Lifestyle and Action Taking Attitude NOW with this

Triple Power Hypnosis Package

all at 100% RISK FREE

Take advantage of this awesome offer now and kick start your new focused, dynamic lifestyle and action taking attitude
Normally this Triple Hypnosis Collection would cost you $81
But this 'Clarity, Focus & Opportunity Package' is available to you today for an Awesome 50% Discount.
Today, Creating Clarity & Focus, A Clear Mental Image and Eyes Open To Opportunity Dynamic Hypnosis Sessions can be yours for just $39.

100% 60 Day "No Questions Asked" Money Back Guarantee…

Taking all the risk off you. Because its on me!

Give Clarity and Focus, A Clear mental Image and Eyes Open to Opportunity 60 days, and if you are not happy and don't find yourself making positive changes, just let me know and I will refund your purchase in full…no questions asked.
I think you will be surprised how comprehensive and yet simple to implement this series is and that you will be 100% satisfied. Your satisfaction is my #1 priority, so if you are not happy, I don't want your money. It's as simple as that.
Buy All This For Just $39
Creating Clarity & focus, A Clear Mental Image & Eyes Open To Opportunity: Instant Download.
Instant Download Even at 3am
"I've got to say your hypnosis is "mind bending." Even after listening to many other hypnotists and recordings over the years and being an Ericksonian hypnotherapist!"

Jamie Long
"Well done John. I have listened to plenty of meditation/hypnosis sessions in the past over decades and I cannot remember when I came out in such a peaceful state."

John Pascoe