Welcome to the Ultimate You
Obviously this isn't free… My coaching call fee alone is $297.00
Today you're not going to pay that!
That does make this a very Limited Offer!
Today You're Getting:
- The Full Hypnosis Land Collection: $788.00
- SoBeing Circle Membership: $564.00
- Plus a $100 Discount of your Coaching Price.
That's $1352.00 of Free Hypnosis & NLP programs and membership to my SoBeing Circle group for ongoing coaching and support.
Plus a Better than 50% OFF the normal coaching cost.
Only $297 JUST $97 a month.
But today you're not even going to pay that...
Obviously this is a limited offer and I can only take on a small number of people to work with. So I want to make sure we're a good fit to work together
Once all the places are taken this offer will be GONE.
To Apply Simply Fill in Your Details Below
I Like the Stuff That Works: Practical, Simple & Elegant!
Based in London, I'm a Hypnotherapist, Life Coach, NLP Master Practitioner and Trainer, with a 25 year record of successfully using hypnosis and Neuro-Linguistic Programming (NLP) to make life transformations. Positive breakthroughs in people's lives. I'm passionate about helping people have the life they deserve and desire. "There's always Room for Less Stress and More Happiness."
Over the last two decades I have been living, studying and learning: Hypnosis, Neuro-Linguistic Programming (NLP), Meditation, Altered Sates of Consciousness, Accelerated Learning and a host of other related mind studies. Working as an independent Hypnotherapist, NLP Practitioner and Personal Development Specialist with private clients, at Retreats and online.
We are all on a continuous journey of development and improvement, that's why I constantly improve and study with the founder of NLP and expert Hypnotist, Dr Richard Bandler. I have attended and assisted on over 50 Hypnosis and NLP Seminars with Dr Richard Bandler and Paul McKenna. I have taught Advanced Hypnosis and niche applications of Hypnosis in the UK and India for over 15 years, and now I want to invite you experience the power of NLP & Hypnosis.
The Proof is in the Results. Check Out What People Have to Say About John's Transformational Work:
Your Hypnosis is 'Mind Bending...
"You are an excellent example of the craft! I've got to say your hypnosis is 'mind bending'. Even after listening to many other hypnotists and recordings over the years and being an Ericksonian hypnotherapist!"
Jamie
Effortlessly Carries Out Interventions…
"I was struck by the level of expertise and in-depth knowledge of NLP that John has as he effortlessly carries out interventions and is a master of the use of language and the NLP toolbox to effect change."
Rose Evans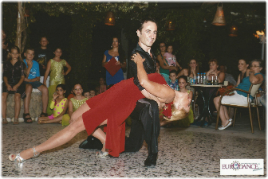 "I have suffered from a panic/anxiety disorder for over 18 years. I wouldn't think in a million years I could ever dance again, let alone do a style of dance I have never trained in before. The Tango is a special art and takes massive concentration. Through your work, I was able to visualize each step with such clarity and calmness that when it came to the time, I actually remembered all my steps. I held your teachings firm in my mind throughout the whole routine. It's your work that actually helped me cross the finish line. I'm truly ever so grateful to you because I have made a HUGE shift, and that shift is propelling me forward and moving me away from any fears. And as you know. I'm going to do it again in Athens. YAY!!"
Kaaren D
Out of a Sea of Confusion...
"Your recordings actually help to get a person out of a sea of confusion and even lies that are constantly being spun in today's society"
Lucas Roets
I came out in such a peaceful state...
"Well done John. I have listened to plenty of meditation/hypnosis sessions in the past over decades and I cannot remember when I came out in such a peaceful state as when I have listened to your session one"
John Pascoe
Create

Deep and Lasting Change

with the Power of Hypnosis and NLP
Reprogramming and Rewiring your Brain

for Success and Happiness
This approach is the most direct and effective way of making lasting change
It's time to become the Ultimate version of you