This is an extract from the 16th annual You Wealth Revolution hosted by Darius Barazandeh.
Blocks around wealth and Money...
"When people feel like there struggling with money or struggling just in life, what are some of the suggestions you have?"
"It prays on people mind all the time and thats the biggest problem, thats the biggest issue with it.
It could be end up being hours a day that people focus hours a day on what they don't have, on bad feeling about what they haven't got, worries, anxieties… and spending all that time focusing on what you don't have.
It drags the whole system down energetically, judgments and thoughts all get clouded and dragged down."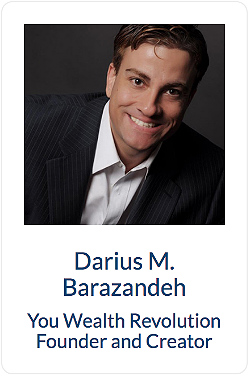 A Word from You Wealth Revolution Founder,
Darius Barazandeh:
"At You Wealth Revolution we believe you are the GIFT the world has been waiting for.
Living authentically, following your own heart and creating small changes in your life = a transformed world (yes you are that AWESOME)!"
Ask any questions and let me know what you think... Your feedback makes a difference 🙂